Full 1
Full 2
Full 3
Amalgam Trainings
To make Amalgam Trainings a dynamic, vibrant, value based training organization comprising of exceptionally skilled, motivated and committed professionals who facilitate seamless transformation of our participants to excellent performers.
Amalgam Training is able to achieve its mission and vision because of the Amalgam Trainers. Our site is very informative and contains significant amount of information about our organization and the programs that we run. We hope that you will reach out to us for your training and workshops needs and allow the efficacy of the program to speak for our work.
Amalgam Trainings, A division of Amalgam Engineering have been honoured with the Aqua Foundations Excellence Award 2017 under the category of Professional Excellence Waste Water Trainer.
The award was presented at a ceremony held during an International conference, XI World Aqua Congress 2017 at New Delhi (India Habitat Centre) on November 9. The "Aqua Excellence Awards" are the highest awards given by Aqua Foundation to its members, stakeholders and contributors in recognition of their outstanding achievements in the field of water, environment, energy,
earth sciences, atmospheric sciences, planetary sciences, pollution control and sustainability solution.
On behalf of Amalgam Trainings, the award was received by the Mr.Ashutosh Vadanagekar (Managing Director) Noted environmental activist Dr. Vandana Shiva gave the award.
Amalgam Trainings got this award because, this was basically for conducting Effective technical Trainings of close to 2000 odd waste water professionally globally.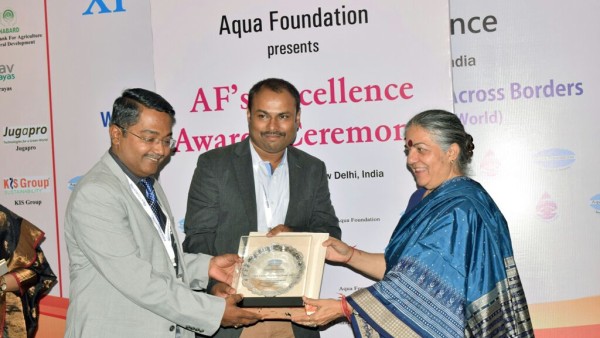 Our Other Verticals
Amalgam Biotech, professionally engaged in manufacturing and supplying the highest quality Biotechnology products for Environment.

Amalgam engineering is a single point contact for all your water and wastewater treatment engineering requirements.
---
Feel Free To Contact Us, We Are Here To Help You
---