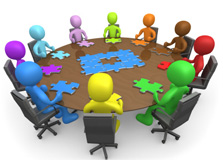 Amalgam Trainings is focussed on creating awareness in the field of Waste water Engineering & Industrial utilities. Amalgam training organizes 2 or 3 days training workshops on various subjects like – ETP/STP Design Engineering, WTP Design, Vermi composting & Bio composting, Solid Waste management,Hospital waste Disposal,Rain water harvesting,Industrial UF/RO Design etc. At comprises of expert professionals from the field of water and waste water you who have gained in depth knowledge and experience over the years. This knowledge and experience forms the resource bank of amalgam trainings.
Amalgam Trainings is a part of Amalgam Engineering, Our motive is to develop sector focused informational training and workshops. Amalgam Engineering which is focussed on providing ETP, STP Troubleshooting & Design Consultancy. Amalgam training shares it's resource base with Amalgam Biotech www.amalgambiotech.com which is focused on manufacturing of specialized Bio-culture (Bacta Cult) for ETP & STP MLSS development.
Vision
To help people achieve unlimited success in their career and grow our clients bottom line through skill development.
Mission
Our roadmap starts with our mission, which is enduring. It declares our purpose as a company and serves as the standard against which we weigh our actions and decisions.
To provide bespoke training tailored to meets each client's needs.
To empower clients with the knowledge that shapes and directs their business pathways.
To ensure flexibility by delivering varying training packages that ,meets the dynamic needs of clients.
Provide quality services that meet regulatory standards and improve the standard of training services.
Creating a learning environment that provides innovative and exciting learning experience for all learners and staff.
Values
Through these values we create success :
Focus on the benefit of the training as it relates to each customer's individual needs.
Be responsible and accountable for each customer's success.
Always act with integrity and dignity when dealing with customers, vendors and employees.
Use common sense to make difficult decisions.
Recognize and exploit talent and constantly work to improve weak areas.
Always EXCEED the client's expectations.